Welcome To Mount Mourne Volunteer Fire Department
Mount Mourne Volunteer Fire Department is located in southern Iredell County. We proudly protect about 8000 residents living in an area of 18 square miles. We operate out of 1 station that protects a primarily residential area, with moderate commercial and industrial properties. We are a combination department of volunteer and part time paid firefighters that provides fire, rescue, and medical first responder services. We have an ISO (Insurance Service Office) rating of 7.
The History Of The Mount Mourne Volunteer Fire Department
On March 17, 1955 the Mount Mourne Volunteer Fire Department was chartered. There were 9 members elected to the Board of Directors. 4 members were elected to a community relations board. In April of 1955 there were arrangements made by the committee to ask homeowners for dues in the community. The decided cost was $5.00 per year per homeowner.

In May of 1955, 2 board members went to the Iredell County Board of Commissioners with a petition for a fire truck. A truck was given to the department, a Dodge pumper that had been used by the Troutman Fire Department. The fire department membership outfitted the pumper with needed equipment. The Fire Chief and Assistant Chief recruited residents of the Mount Mourne community to become firemen. 20 men were selected. The fire department by-laws were created by 1/3 of the membership. Training was to be taken with the Charlotte, Huntersville, Cornelius, Davidson, Statesville and Mooresville Fire Departments. A Ladies Auxiliary was formed at this time.
Next would be a building to house the equipment. In August of 1955, a 2-bay building was built. In 1956, a 1936 Dodge truck was purchased from Pepsi-Cola Company.The membership built the truck into a 1000 gallon tanker and equipped it. During these years, there was no alarm notification system. The citizens of the Mount Mourne community were given names and numbers of the firemen to call in case of an emergency. Once a member was notified, he was responsible for notifying the other members of the department. The fire department would host hot dog suppers and annual barbecues to assist with funding. Many of these were held in the Mount Mourne School cafeteria.
In May of 1958, it was decided to map out an area for which the fire department would be responsible to protect. This was decided to be a 4-mile radius from the fire house. An alarm system was the next priority. In 1962, an air horn was installed. This was used until 1974 when an electric 10-horsepower siren was installed. In 1967, mobile radios were installed in the trucks, with a base radio at fire house.  9 members were issued monitors. In 1979, additional monitors were purchased. 22 monitors were then utilized by the fire department to notify members of calls for service. The yearly average number of calls for service was 22.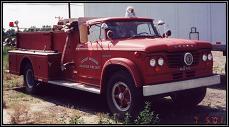 In 1964, a second pumper was bought. This was a new Dodge pumper with pumping capacity of 750 gallons per minute. At the same time, a 1969 1200 gallon Ford tanker was purchased. In 1975, a new 1200 gallon Ford Tanker was purchased. In March of 1977, a 1975 brush unit was purchased. A 1962, Ford Van to function as an equipment truck was purchased. In 1975, an additional 2852 square feet was added to the fire house. In 1976, the fire rating was increased to 9a.
Since the department has been charted there has been 8 Fire Chiefs: George Woodfin 1955-1956, Lewis Edmiston 1956-1967, Charles E King 1967-1971, Phiefer Johnson 1971-1980, Steve Knox 1980-2004, Blake Lawing 2004-2006, Jeff Richardson 2006-2013, and Roger Hoover 2013 to present. A Junior Firefighter program was created in 1979 with 15 Junior Firefighters. To date, the Junior Firefighter program is still active.
When the department was chartered in 1955, there were approximately 450 dwellings and businesses. In 1984, a new Ford pumper was bought to serve the needs of the growing community now up to about 1500 dwellings, businesses and several industries. The fire department petitioned the citizens of the Mount Mourne community to become a rural fire protection district in 1984. This petition was successful. In 1985 a medical first responder program was created, the first in Iredell County for dedicated fire departments. In 1989, a 1500 gallon Mack tanker was purchased. In 1991, a Ford Explorer was purchased, with grant money from the Lowrance Hospital, to answer medical calls. Mount Mourne was the first department in Iredell County to carry automatic external defibrillators. In 1994, a new Ford brush truck was placed in service. In 1996, a 1250 gallon Ford Tanker was placed in service. Many of the older apparatus, including the 1964 Dodge pumper, were taken out of service and sold. In 2000, the Board of Directors approved a request from Fire Chief Steve Knox to employ one part-time firefighter position to work Monday thru Friday from 8AM to 5PM. Beginning August 1, 2000, Mount Mourne was the first volunteer fire department in Iredell County to staff with part-time firefighters. In 2001, a Spartan/Marion pumper was purchased. In 2002, Mount Mourne participated in the North Carolina Department of Insurance Rural Rating Inspection. The ISO (Insurance Service Office) rating was lowered to Class 7.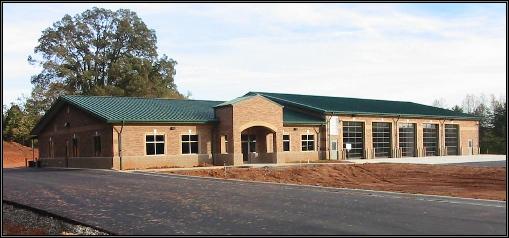 In 2003, construction began on our new fire house, which was built on 11 acres of pre-revolutionary war property dating back to 1764. The new firehouse is located at the intersection of Mecklenburg Highway and Langtree Road. The new fire house was completed, dedicated , and occupied in January of 2004.
A second part-time firefighter was added July 1, 2004. In 2005, a Spartan/Marion Rescue Engine was purchased. In 2010, a Mack/Baker 75′ Aerial Scope was purchased to improve fire protection to the area. In 2012, a Spartan/Marion 2500 gallon tanker was purchased. Call volume continued to increase. As a result of the increasing call volume and growing community, night and weekend staffing with volunteer duty crews was implemented. The weekday part-time staff was increased to 3 firefighters beginning July 1, 2013. On December 17, 2013, the Iredell County Board of Commissioners granted Mount Mourne rescue district status. This makes Mount Mourne a dedicated rescue squad and responsible for all rescue services in the district. On July 1, 2015, Mount Mourne began staffing with part-time firefighter 24 hours a day, 365 days a year. We currently answer approximately 1100 calls for service each year.
All of this is made possible by the dedication of our hard working firefighters, their families, and support from our community.